How Does LIB Team Service Tier-one Agent?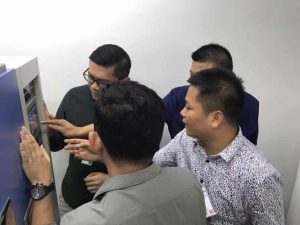 After being requested by the Malaysian Agent, our technicians went to the site to teach the operation and maintenance of temperature and climate test chambers for end user. They are very happy of it.
End user is a automotive company, they purchased temperature and humidity test chamber for Automotive environmental testing.Materials that can undergo Automotive environmental testing include metal, plastic, rubber, glass, and coatings.
Climatic chambers – Humidity, temperature cycling -78°C to +150°C, 10 – 95% RH. If your products will perform this testing, LIB test chambers are ready for you.
If you want to buy LIB  test chambers from the local, then contact our agent.